Your local taxi companies in one easy app
The WINIcabs app finds you the nearest available taxi. The app gives you the details of your professional taxi driver who has been background checked, licensed by the city and is appropriately insured. Load your card into the app for a cashless transaction but you also have the option of paying cash or swiping a card in car.
Book Now or Book Later
Need a cab for 5am? No problem! Tap the app and see how many cars are nearby or, if you prefer, book hours or days in advance.
Family Accounts
Register your kids' mobiles to use your account. You get a text with driver details, pick up and drop off notifications and journey details – every time the account is used.
In-App, Cash or Credit Card Swipe
Unlike other apps you enjoy all the benefits without having to register a credit card.
Online Accounts
Use your app login to access your personal free account to manage your taxi journeys — from here you can export, email or print.
COLUMBUS, Ohio — Mohamed Farah says when he came to Ohio in 1996, driving a taxi was a good way to earn a living. "Before the rideshare comes in, we were living a sufficient life, we were paying our bills on time. We have to raise our family like everyone else," said Farah, Independent Taxicab Association of Columbus…
read more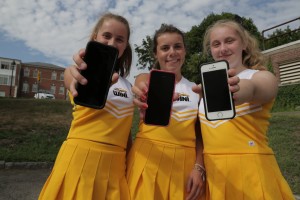 Get ready!
WINIcabs has completed its beta testing in the U.S. with the local taxi and hospitality communities. Get ready for the launch in your area soon!
Looking for Dispatch Solution?
Fully automated location based taxi service. Save up to 75% of your dispatch costs.
Also save money on fuel costs as the customer gets connected to the driver nearest to them.
Read More